CCMe™powered by Twistle™ Streamlines EHR Documentation
With CCMe™powered by Twistle™, patients can now fill out patient history forms before, during, or after their visit using their own PC, tablet, or SmartPhone. For patients without a PC, tablet, or SmartPhone, the patient-entered history forms and questionnaires can be completed in the office using any web browser device (PC, tablet, iPad). Patient-entered history and structured data flow directly back into the current EHR chart for the provider and/or staff to review while automatically generating the visit documentation.

Clinical Content Consultants (CCC) has entered into a business relationship with Twistle to allow patients to fill out Past Medical History, Past Surgical History, Family History, Social History, Risk Factors, Review of Systems, and Disease-Specific Patient Questionnaires. Any or all of these forms can be sent directly to the patient to fill out and then directly entered into the EHR current update to be reviewed by the provider before committing to the chart. To learn more about Twistle you may visit Twistle.com

"Real-Time" Patient-Entered History Directly Into the EHR
CCMe™powered by Twistle™, is a 'real-time' patient-entered history application that allows the patient to complete a detailed initial medical history, or review and quickly update their past medical history. Current patient-entered history applications require the patient-entered history to be imported into the EHR database and signed PRIOR to a visit note being started. This workflow is not conducive to the typical office workflow and limits the workflow options of provider and staff.

Patient-Entered History Forms Use Your Own Clinical Content
CCMe™powered by Twistle™ does not require the building of custom forms (paper or web-based) to display the medical history questions to be captured. This reduces the cost and time of creating custom clinical history questionnaires for each site and specialty. Since most sites and specialties want to have customized patient-entered history questionnaires, the added cost in time and money can be substantial.

Because CCMe™powered by Twistle™, uses your own site's custom clinical content; what your specialty has designated as important medical history is what the patient sees on their hand-held device. Any edits or changes you make to your clinical content are automatically reflected in the patient-entered history forms.

Secure Messaging Delivery of Clinical Visit Summaries, Lab Results, and Patient Reminders
CCMe™powered by Twistle™, is not just a patient entered history application. Clinical visit summaries, patient-specific EHR-generated patient education, lab results (annotated if using EMR-Link™ by Liason), patient reminders as well as any secure message communication can be sent securely to the patient. Automated workflows improve clinical efficiency and convenient delivery and engagement with the patient.

Questions: contact support@clinicalcontent.com or support@clinicallyspeaking.net
Pricing:
CCMe™powered by Twistle™, is available to all Centricity EHR users but pricing varies based on whether a site is a CQIC member, non-CQIC member using GE-CCC clinical content, or a non-CQIC member not using the GE-CCC clinical content.

Click to View/Download CCMe™ powered by Twistle™ Pricing/Quote Tool

Pricing is based on number of providers and/or users and can be paid using either an annual or monthly subscription model. PLEASE NOTE: there is a 20% discount in pricing for sites that subscribe annually vs. the monthly subscription rate. Organizations will need to either download (see above) and complete, or request a quote, and return a signed quote to support@clinicalcontent.com or support@clinicallyspeaking.net

Licensing:
Licensing is based on a per provider/database model and organizations need to license based on a number of providers using just the patient entered history application and/or any users of just the secure messaging application. Organizations will be required to purchase their own PCs, Tablets, or iPads for the application. The CCMe™powered by Twistle™, is hosted by Twistle. There is no additional hardware required to run the application.

Review of Prior History and "reviewed-no changes required"
CCMe™powered by Twistle™ displays the patient's prior medical history from their chart and displays it on the hand-held device. The patient can then quickly review the past information and if unchanged, simply check the "reviewed-no changes required" option. Instead of having to complete a new detailed questionnaire at every visit and re-enter the same information, the patient can simply check that there are no changes or update their history for any changes. This workflow saves the patient time and is more convenient.

Auto-alert to Provider and Updating of Clinical Note for "reviewed-no changes required"
In addition to the patient ease and convenience of the "reviewed-no changes required" option, sites can select to alert the provider when the past history is unchanged for quick review and automatically populate the "reviewed-no changes required" check boxes within their EHR forms.

This CCMe™powered by Twistle™ workflow saves the provider and staff time which can be spent improving the quality of care instead of doing data entry.

Patient-specific, Specialty-specific, Condition-specific Patient Entered History Questionnaires
Utilizing clinical content from your EHR, patient-specific, specialty-specific, and/or condition-specific patient questionnaires can be sent from the EHR directly to the patient to be completed prior to the scheduled visit, during the visit, or after the visit in follow-up. The patient-completed questionnaire then imports 'real-time' into the current visit note, or a future visit note, in the EHR where it can be reviewed, scored, interpreted, and acted upon. By streamlining the data-entry process, the provider and care team can focus on providing improved quality of care.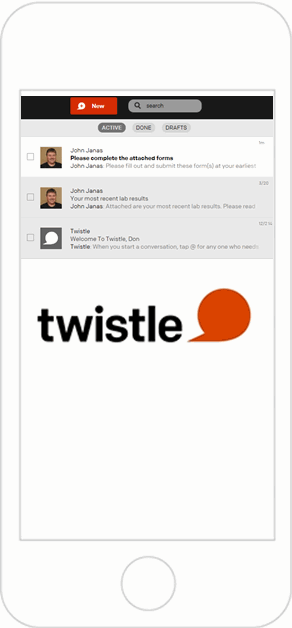 CCMe™ powered by Twistle™ Patient Entered History and Secure Messaging Workflow Videos
The following 1-2 minute video clips detail various patient entered history clinical workflows of the CCMe™ powered by Twistle™ application.